Oil & Gas
C.L. Carter & Associates was formed out of a need in the Tulsa oil & gas community for practical, solution-oriented professional accounting and administrative services. During Mr. Carter's tenure as an exploration & production (E&P) Controller/ Treasurer, he was frequently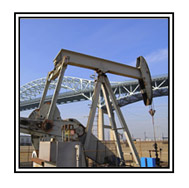 frustrated by the lack of CPA firms who were well-versed in the intricacies of the oil & gas industry. While some firms were proficient in oil & gas income taxes and financial accounting/audits, there was a consistent lack of knowledge of the day-to-day workings of a small E&P company. Most firms were completely unfamiliar with COPAS matters, revenue distribution, drilling and operations, gas marketing, tasks associated with acquisitions, oil & gas accounting software, and so on. Realizing he was uniquely qualified, Mr. Carter formed Carter & Associates and began meeting the specialized needs of small E&P companies, as well as providing traditional tax and financial reporting services. As it turned out, the demand for his firm was strong and the client base which began in Tulsa quickly expanded statewide, and has now included consulting services to companies located in California, Illinois, Arkansas, Texas, New York, Louisiana, Kansas, Canada, and Australia.

OIL & GAS SERVICES

PLANNING & MANAGEMENT ADVISORY SERVICES
Controller Services
Acquisition & Divestiture Services, including due diligence, assimilation and transitions
Financial Planning
Business Plans
New Venture and Joint Venture Planning (including oil & gas deal structuring)
Administrative Advisory Services

Insurance (Well Control/Blowout, OLL, OEE, Underground Resources, etc.)
Workers Compensation Insurance & Audits
Banking & Lending
Production & Land Administration
Operator Set-up and Bonding
ACCOUNTING SERVICES
Financial Statements – Cash Basis & Accrual Basis, Tax & GAAP, Full Cost & Successful Efforts
Cash Flow Reports
Sales & Operations Reports (e.g. Lease Operations Reports, AFE Reports, Investor Reporting, Payout Reporting, etc.)
Custom Management Reports
Multi-Company/Entity Reporting & Consolidation
General Accounting work that requires specialized oil & gas knowledge in areas such royalty and revenue disbursement, JIBs, inventory & material transfers, etc.
Special Projects & Interim Services during the absence of key employees
Have hands-on experience with clients on OGSYS, Roughneck, WolfePak, and QuickBooks.
SOFTWARE & SYSTEMS SERVICES
Software Consulting & Report Work
Software Selection (familiarity with several oil & gas accounting programs)
Installation, Set-up, Conversions, & Coaching
Support & Training
20+ years of experience with Oil & Gas Information Systems (OGSYS)
15+ years of experience with QuickBooks, including oil & gas service companies and oil & gas investment accounting (working interests & royalties)
TAX SERVICES
Individual & Business Tax Planning (including oil & gas deal structuring)
Federal & Multi-State Income Tax Returns, and Canadian oil & gas tax-pool accounting
Corporations, Partnerships, LLCs, LLPs, Joint Ventures, Individuals
Assistance with unique tax areas in oil & gas such as franchise taxes, production taxes, sales tax, property taxes, international taxes, etc.
OTHER SERVICES (available through our close network of associates)
Estate & Trust Taxation
Financial Audits for banks and investors
C.L. Carter & Associates
Industry-minded professionals serving businesses in the
Tulsa Metropolitan Area and Nationwide over 15 years.
Henshaw Office Park
(Off the BA Expwy near Hwy 169)
3101 N. Hemlock Cir., Suite 130
Broken Arrow, OK 74012
(918) 251-6905
E-mail:
chuck.carter@carterandassoc.com